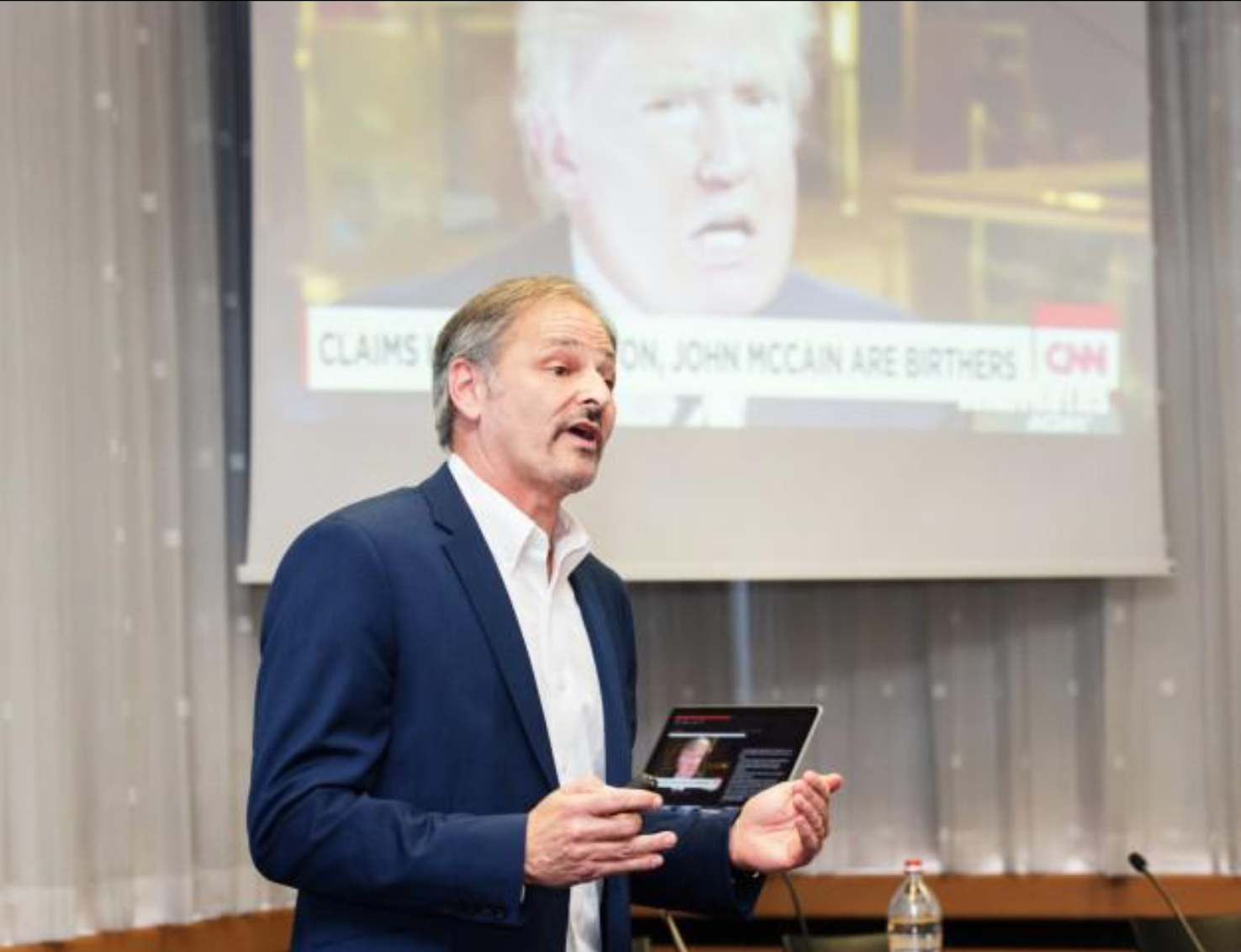 I feel guilty. I have a job as a journalist when tens of thousands of my colleagues – hundreds of thousands, actually – have lost theirs.
Call it survivor's guilt.
As the traditional and digital media world I inhabited over three decades collapsed in a heap of failed business models, shedding journalists at a horrifying pace, in 2011 I came up with an idea that I hoped would achieve four goals and offer a sliver of light at the end of the ever-darker tunnel:
(a) Leverage a lifetime of experience as a print journalist, digital media executive and entrepreneur;
(b) Create a sustainable journalistic subscription business model around high-quality, accurate, fact-based content;
(c) Produce value for clients in the private and public sectors, on the one hand by teasing out what mattered from the tsunami of information in order to help them make decisions, and on the other by crafting worthwhile information to help their audiences make decisions;
(d) Generate new work for journalists.
As the slaughter in media worsened – ironically as fake news became an epidemic and the need for quality journalism was never greater – reason (d) unexpectedly assumed increasing importance.
How Bad the Massacre?
When I was a newspaper and magazine journalist in what I consider the golden age of print – the 1970s to the late 90s – there were 458,000 reporters, editors and others in the business in the U.S., according to the U.S. Bureau of Labor Statistics.
For the most part, they held reasonably paid, secure positions, gathering facts and reporting accurately, challenging authority, explaining the world – digging beyond the surface to get to the "real story."
By 2016, that number had plummeted by 60% to 174,000, and it's getting worse.
In the past weeks alone, the bloodbath has been brutal, topping 1,000: dozens of journalists at BuzzFeed; 800 from Verizon's media division, which includes TechCrunch, Yahoo, HuffPost and other content brands; 400 from Gannett and its national network of local newspapers, plus USA Today, as the mother company gasps to stay alive.
Advertising-based media business models have gone the way of the Gutenberg printing press. For a time, we all thought that digital outlets like Facebook and Google would be our savior. Instead, that hope has been betrayed by algorithmic changes like Facebook's de-emphasizing "real" journalism content from respectable outlets in favor of content from users' personal networks.
In today's world, it's all about scale, scale and more scale. That's tough for all but a few outlets.
I wonder if Mark Zuckerberg feels guilty for this, among the many other reasons he should feel guilty? "The cause of each company's troubles may be distinct, but collectively the bloodbath points to the same underlying market pathology: the inability of the digital advertising business to make room for anyone but monopolistic tech giants," explains Farhad Manjoo, the New York Times tech columnist.
Everyone in global universe of "real" news and content is looking for sustainable ways to practice journalism. "I think media is still a great business, if you run it like a damn business," Jim VandeHei, CEO of Axios, a Washington-based website told The New York Times.
Absolutely. That list above of goals turned into VitalBriefing, creating business intelligence and branded thought content for private and public sector clients in multiple industries.
And that's another reason for my guilt – it's a betrayal of the values I grew up with professionally. As a reporter in newspapers and magazines in the era of the "Chinese Wall" separating editorial and publishing (the business side), we journalists couldn't care less about our business colleagues as long as they made enough money to keep paying us.
Our noses were in the air about our own business. In fact, we tended to see those folks as the enemy within, hell-bent on swaying our reporting based on advertisers' concerns. We would scream any time we thought that commercial interests were trying to breach that wall.
My first inkling that things were about to change came in 1995 at Newsweek, where I was a foreign bureau chief, when the publisher announced at an all-staff meeting that the magazine was going online and putting its content there…for free. I remember thinking: "I'm no business guy but how's that going to work exactly?"
Ah, the good old days. Newsweek was sold a few years ago for $1.
There Is Good News
In a few cases, 24 years later after that all-hands, the transition to digital, while painful, has started to pay off…for a few lucky ones. Recently, the New York Times announced that in 2018 it had generated more than $709 million in digital revenues and clocked 3.3 million digital subscribers, up 27% from the year before.
More revealing still was that for the first time, digital advertising outstripped print – a huge milestone in the industry and the clearest signal, in my mind, that the tipping point actually may be in sight.
Any time traditional news operations can make the transition to healthy business – well, that's heartening for all of us. Digital-native companies like Vox Media, brilliantly run by my former AOL colleague Jim Bankoff, reportedly was profitable last year. I love seeing The New Yorker, The Atlantic and The Washington Post making their way to long-term digital sustainability.
And creating more jobs for journalists. Which helps assuage my guilt, but not completely.
The tragedy of the massive layoffs means lots of top talent with stellar backgrounds and experience from the best publications across their specialties, from finance to technology and beyond, is on hand to answer our frequent global calls for journalists.
Every time I review those resumes, it grieves me – so much talent in the market looking for a home. I want to hire them all. With our own business scaling now, we count some 50 journalists working with us and I'm hell-bent on growing so that eventually we'll have hundreds.
Sustainability Is Us (We Hope)
We know now that we've created a sustainable business, and a sustainable business model – subscription-based, industry-specific, high value content – that can endure these uncertain times in the media world. We've grown steadily since we began at an ever-faster clip in markets increasingly hungry for reliable, accurate, and trustworthy information to feed their need for internal knowledge on one side, and well-told stories to share with their audiences on the other.
The New York Times columnist Manjoo hit on the VitalBriefing mantra when he noted that "we are in the midst of a persistent global information war."
"We live our lives on technologies that sow distrust and fakery, that admit little room for nuance and complication, that slice up into ignorant and bleating tribes. It is an era that should be ripe for journalists and for the business of journalism – a profession that, though it errs often, is the best way we know of inoculating ourselves against the suffocating deluge of rumor and mendacity."
We intend for our small inoculation to help our clients stay healthy, and plan on continuing to create opportunities for talented journalists through this painful transition of an industry in crisis.