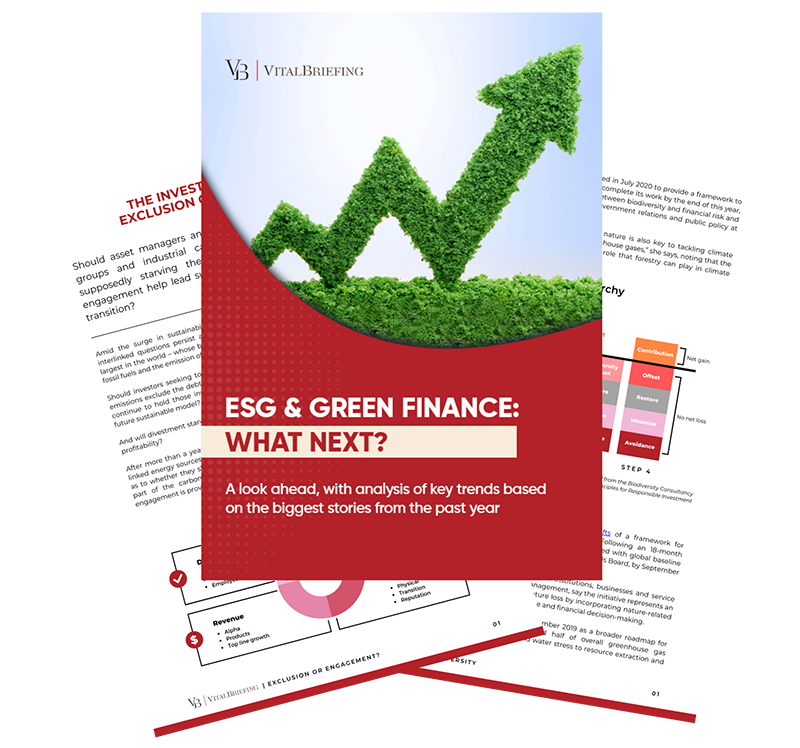 Get Ahead On ESG
Drive your 2023 ESG planning with this indispensable free white paper, featuring insights and analysis from more than a dozen finance industry experts.
What's Inside…
ESG & Green Finance: What Next? highlights key sustainable finance trends and how you should be preparing for them in 2023. The white paper covers:
The regulatory challenges closing in on the financial industry
The looming SFDR
Must investors choose between sustainability and performance?
The data trap – reporting information that doesn't exist (yet)
Biodiversity – can the financial industry save the natural world?
The investor's dilemma: exclusion or engagement?
VitalBriefing and sustainable finance
With the world approaching "zero hour" and our clients clamouring for reliable information on ESG, we decided three years ago to expand the focus of our financial industry coverage to include all aspects of sustainable finance, from the most important stories and developments to new products, services and funds. Via cutting-edge technology, our global corps of veteran journalists monitor and identify the key news our clients need to follow to drive their sustainable business planning.
What our clients say

Sustainability and ESG can't just be about "feel" and guesswork. The "soft" reputational measures need a "hard" basis in fact – and that's where access to reliable information and analysis is imperative. VitalBriefing's ability to hone in on the essential, using a balanced mix of automation and human intelligence to deliver the important, the pivotal and the actionable in this sector is invaluable.
DAVID SCHLESINGER
MANAGING DIRECTOR
---
---
What makes our media monitoring different (and better)?