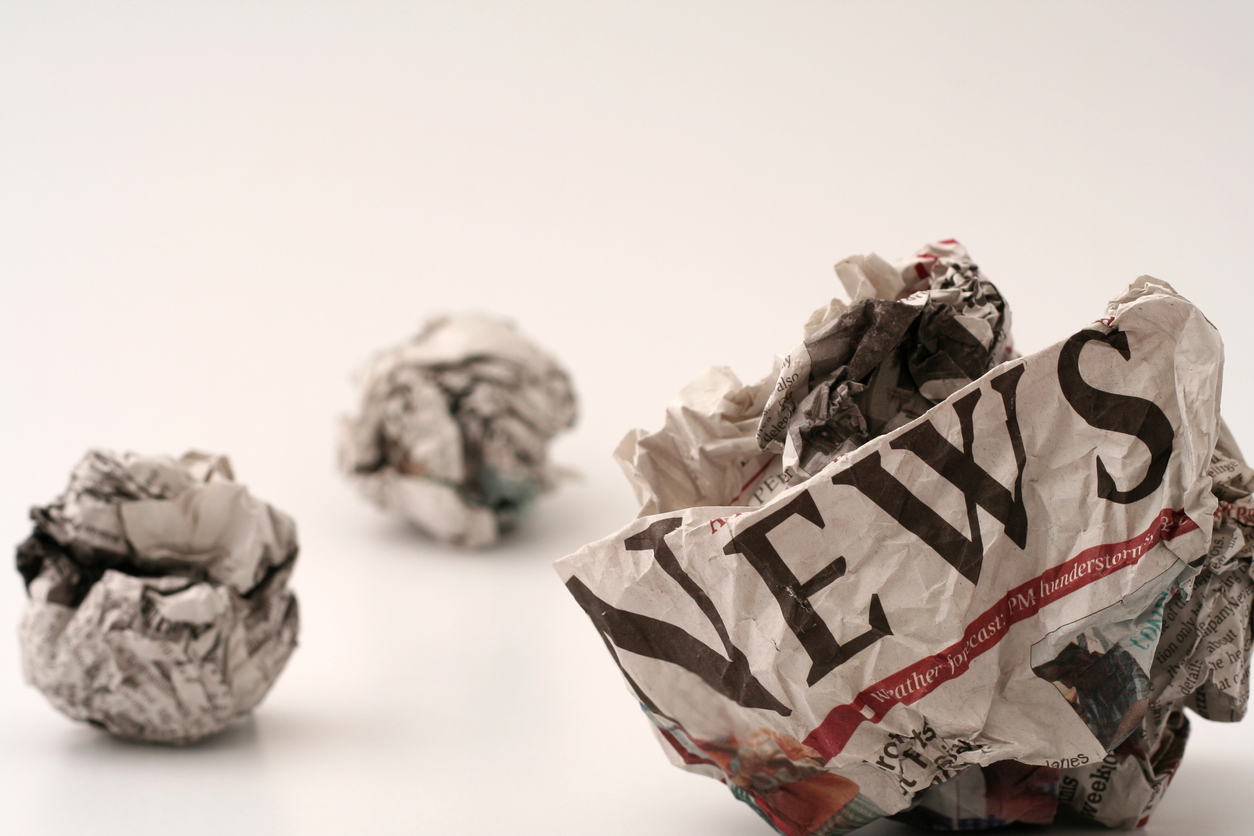 Take a quick scan of online news and you might conclude that the internet has played an important role in democratising the spread of information.
Makes sense. There appear to be more news providers than ever, liberated by the near-zero cost of digital publishing.
No longer is the flow of news restricted by the time, trouble and, above all, cost of printing and distributing news content to readers.
Instead, the process of publishing news is reduced mainly to its essentials: gathering, selecting and collating.
Certainly the proliferation of information sources complicates our task at VitalBriefing of searching, curating and summarising relevant news to distribute to our clients. The volume of online information relating to a particular topic or issue has exploded massively in recent decades. As such, it significantly increases the importance of our role in assessing and selecting the sources we use to find the news our clients need.
Yet, what we've found is that even as the number of news sources rises each year — and in a multitude of languages — the proportion of those that are high-quality and reliable is diminishing. And not only as a proportion of the overall information flow, but in absolute terms.
In short, as quantity is swelling, quality is waning.
Shrinking pool of experience
There's no secret behind this. Gathering news in a serious way is an expensive business. Across Europe and other parts of the world, the number of news organisations with the resources to provide comprehensive coverage of current affairs at a national and international level is shrinking.
The erosion of newspapers' advertising base (not to mention those of TV and radio stations) by competition from internet platforms has undermined their ability to employ journalists and editors of the highest quality.
Experience is a particularly expensive quality, and many news organisations find they cannot afford much, if any, or at least not as much as in the past. And many news businesses have struggled to really understand the internet, its business models, audience behaviour — and to compete successfully for revenues there.
An aspect of the shrinking of breadth and depth in the news business long predates the internet. Until some 20 years ago, many newspapers employed teams of foreign correspondents, bringing their readers first-hand accounts of international news.
Starting in the 1970s and accelerating, however, their numbers have steadily been shrinking as media instead turn to news agencies such as Reuters, the Associated Press, dpa and Agence France-Presse.
The wire services strive to provide a good service but they are not immune to budgetary headwinds. This has an impact on the number, experience and expertise of the journalists they employ, and even more the editors who act as gatekeepers of the quality of their work.
Over the past couple of decades, I have seen numerous examples of how these constraints are eroding quality and accuracy.
When information matters
It doesn't help that news information as a commodity is significantly less valuable than financial data — which is important, but to large segments of the public, even among decision-makers in business and politics, often means little without expert and cogent analysis.
Not that financial and business news are exempt from the overall trend toward erosion of expertise and quality. Quite the contrary: Many more lucrative activities can be performed with a sound knowledge of finance, economics and business than to write about it.
That shows in the output. The result is a diminishing pool of capability and understanding in areas in which it matters greatly.
I see too many young journalists trying to deal with complex topics for which they lack sufficient grounding. I should know — I was one of them. But I was fortunate to benefit from the guidance of mentors and editors who taught me over the years. I fear there are far fewer such influences around today. As noted, they're expensive.
And the quality of coverage is all the poorer for it.
Original content and press releases
In the absence of sufficient journalistic expertise to create valuable original content, the void is filled by official information and press releases.
True, thanks to Google and its peers it's so much easier today to seek out information online than by making phone calls or, perish the thought, visiting libraries. But scraping data from companies' websites is no substitute for critical analysis and asking difficult questions.
The notion of press releases takes us full circle to the issue of the proliferation of what appear to be online news sources. A substantial proportion of the information found online is simply that — recycled press releases begging for clicks that bring revenue from advertisers.
Yes, it's information of a sort. But journalism it isn't.
So you're thrown back to a diminishing circle of news organisations that still remain dedicated to reporting and analysis that enhances the knowledge and understanding of its audience. In many cases they support themselves through subscription plans that inevitably restrict the availability of that high-quality information.
Some, bravely, are trying to avoid this fate. I'm thinking of outlets such as the left-of-centre UK newspaper The Guardian, which asks readers to donate what they can, or The Washington Post, that found a high-rolling saviour in the form of Jeff Bezos.
Why quality matters
If you ever doubt the value of high-quality news sources, consider the more than five years spent by the Financial Times (full disclosure: I have worked for the FT from time to time over many years) investigating the credibility of the financial statements of Germany's fintech stock market darling of the 2010s, payment processor Wirecard.
For years, the newspaper's journalists kept nagging away at inconsistencies and discrepancies in Wirecard's accounts that pretty much wholly escaped the company's regulators. Wirecard dismissed the FT's reporting as lies encouraged by the company's rivals and short-sellers — right up until June 18 this year, when it acknowledged that €1.9 billion on its balance sheet was non-existent and it collapsed into bankruptcy.
As an illustration of what makes high-quality news sources valuable amid so much online noise, it's hard to improve on that.