In an era of information-overload, competitive intelligence and competitor/press monitoring can be your differentiator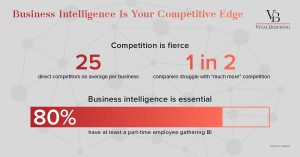 Our world is driven increasingly by data: what we read, what we buy and what we think.
Businesses that fail to harness the data flow will cripple their sales staff's efforts to attract new business and retain existing customers.
Why media/competitor monitoring matter
No business can operate in a bubble, particularly in the modern, globalised and internet-driven economy. You must stay current on your competition, the innovations about to rock your world and the data that will cut costs and boost productivity.
Corralling all that information is expensive.
Often, data is unstructured. That means monitoring competitors or absorbing a tsunami of information from news articles, blogs and press departments doesn't squeeze easily into corporate KPIs and reports, or on a single intelligible spreadsheet.
Hence, competitive/competitor intelligence, and monitoring software and services that draw on data analytics and industry news/trends will spot strengths, weaknesses, opportunities and threats.
Just as important, they present the information in a format that executives and staff can use to drive decisions.
The aim is to collate, structure, present and update relevant data so that various staffers, including your sales team and finance department, can make better strategy, react faster and ultimately sell more.
Why humans for media monitoring?
Harnessing all that data is a massive and exponentially-growing challenge. Internal business functions create many thousands of data points each day.
But information held by the finance team may not be accessible to customer service or passed in a useful format to sales teams that could, in turn, offer alternative products to customers struggling to pay invoices, or offer an upgrade to those who consistently pay on time.
Meanwhile, automated competitive intelligence and media/competitor/press monitoring software and tools paradoxically can contribute to an organisation's information-overload, flooding your business with irrelevance.
In this case, the old adage holds: Quality beats quantity.
Enter the personal touch.
As helpful as some automated services are for amassing data and information – for example, those from Oracle or Trakomatic – they can't match analytics curated and organised by a human expert.
That's why 80% of businesses now have at least one part-time employee (e.g. business intelligence analyst) dedicated to gathering BI.
Companies also must be able to react immediately to fake news spreading about them or their industry. Left to fester, opinion and falsehoods can quickly overwhelm the truth, complicating efforts to respond by PR, sales, marketing and customer-service colleagues.
The greater the data flow, however, the harder to filter right from wrong, true from false and useful from time-wasting – quickly overwhelming time-pressed staffers.
Multiple benefits
The need to recognise and respond to situations good and bad — and to respond quickly — often drives a company to invest in business and competitive intelligence that aims to assemble data fast and intelligibly.
MicroStrategy found that:
94% of businesses think

data and analytics are important for growth and digital transformation.

Almost two-thirds (64%) believe such software already has led to improvements in productivity and efficiency.
Nearly half (46%) say they have improved customer acquisition and retention by deploying the technology.
Competitive intelligence, however, offers payoffs outstripping sales: 46% of respondents also say that related technologies led to the discovery and creation of new revenue streams.
ROI up to 1 000%
There are plenty of providers of competitive and business intelligence tools, software and services for marquee multinational clients such as SAP. Smaller specialists focus on specific sectors.
Be aware that these providers' services are never cost-free.
While tricky, measuring the ROI on business intelligence is almost uniformly positive. A respected study by IDC found a median five-year ROI of 112% and an average payback time within 1.6 years.
One-fifth of the firms surveyed even found returns of 1 000% or more.
Other studies deliver a wide range of results. A more recent survey by Nucleus Research documented average returns of $13.01 on every dollar spent.
Companies as diverse as Amazon, cruise liners and even universities are keen on deploying competitive and business intelligence, respectively, to encourage more sales, more passengers and fewer dropouts by new students.
Ultimately, there's a reason that the Dresner Advisory Associates' popular Wisdom of Crowds® Business Intelligence Market Study notes that improving revenues using BI and CI is now the most popular objective enterprises pursue.
Sharing the sales benefit
These successes also depend on correctly implementing the software and the data produced.
Done well, CI also throws off intangible benefits, such as better employee engagement and a more pleasant, well-integrated working environment.
Poor implementation, without buy-in across all functions and levels, will reduce those intangible benefits — as well as the tangible, bottom-line ones.
More than 80% of management has access to the analytic data their systems deliver, according to the MicroStrategy study. Those on the front lines – in sales or customer support, for example – aren't so lucky; just over half have access to the tools that could provide them more insight and help speed decisions.
That lack of access creates friction, adds to cost and leads to poorer outcomes, including the loss of once-loyal customers when the sales team can't be proactive.
In those cases, the majority of employees must ask someone else in the organisation for help in making a data-driven decision.
A substantial number simply 'wing' it, relying on intuition rather than fact.
In short, restricting access to business insight is a false saving. Don't be fooled.
Key takeaways
Business and competitive intelligence are widely considered as critical by companies in every sector.
There's a significant difference between access to business intelligence and access to effective, high-value business intelligence. Simply gathering data won't yield the potential 1 000% ROI.
Business intelligence — easy to share and absorb and tailored to your specific needs — must be easily accessible by your sales team.
The best business and competitive intelligence products are produced with some form of human curation that meets your specific needs.