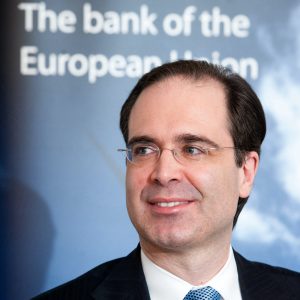 Long before sustainability and sustainable finance were on, well, everyone's minds, Hakan Lucius was pounding the drum for the world to pay attention.
Over his two decades in the field – and now in his current role as Head of Corporate Responsibility at the European Investment Bank (a client of VitalBriefing's services in Sustainable Finance), Dr. Lucius has amassed a stellar background as a leading authority in the field, structuring billions in investments, loans and equity for multinational teams negotiating sustainable initiatives with governments, businesses and civic organisations.
In this interview with VitalBriefing CEO David Schrieberg, he discusses the EIB's role as a global sustainability leader and the challenges in a field that is catching fire at a time the world never needed it more.
---
What are the key criteria for distinguishing between genuine ESG, green or sustainable financial instruments or products and those whose promoters are seeking to jump on the bandwagon?
It is important to look behind the headlines, into the actual activities, standards and appraisal processes. The European Investment Bank (EIB) is the world's largest multilateral lender. Ensuring that sustainability is embedded in all our work means three things:
A number of activities are excluded from EIB lending because they are incompatible with our sustainability objectives.
All projects and investments have to comply with the EIB's Environmental and Social Principles and Standards to incorporate environmental and social sustainability considerations into our investments.
We perform a separate economic appraisal to assess the cost and benefits of our investment projects to society.
While embedding sustainability into our processes, we are also one of the biggest providers of climate finance.
We have been Europe's climate bank for a long time. 2015 was a milestone year in this field, when the EIB Climate Strategy was launched and EIB Climate Action finance had reached a record high of EUR 20.7 billion, representing 27% of overall EIB financing.
Now the EIB has decided to make a quantum leap in its ambition, becoming the EU climate bank. We will stop financing energy projects reliant on fossil fuels and we will increase our ambitions in climate action and environmental sustainability.
Our approach builds on three pillars: The first is to increase our own financing; we are aiming at 50% for climate and environmental sustainability by 2025.
The second pillar is a commitment to support €1 trillion of investment for climate action and environmental sustainability by working with our public and private partners in the decade to 2030.
The third pillar is to align all our activities with the principles and goals of the Paris Agreement starting by the end of this year.
This new ambition will help unlock the massive investments that will be needed for the decarbonisation of our economies. In this regard, the EIB is a central piece in the implementation of the European Green Deal to make Europe the first carbon-neutral continent by 2050.
— — —
How big a problem do you believe greenwashing really is, as opposed to honest confusion or differences between conflicting sets of sustainability criteria?
We put sustainability at the heart of what we do. The ultimate goal of projects and investments financed by the EIB Group is to improve people's lives by promoting sustainable and inclusive growth within the European Union and beyond. We focus on four priorities areas: innovation and skills, access to finance for smaller businesses, infrastructure and climate and environment.
Being a policy-driven Bank, the EIB appraises and monitors all the projects it finances with regard to their sustainability credentials. We only finance projects that pass our financial and sustainability due diligence.
Appraisal and monitoring ensure that projects comply with the stringent EIB Environmental and Social Standards based on the EU legal framework. In addition, we also measure and publish the carbon footprint of all projects with a significant impact.
On the borrowing side, sustainability plays a major role in our fundraising activities.Two debt products stand out for their very specific sustainability criteria: Climate Awareness Bonds (CABs) and Sustainability Awareness Bonds (SABs).
While CAB proceeds are allocated to projects contributing to climate change mitigation, proceeds from SABs are allocated to projects contributing to environmental and social sustainability objectives beyond climate.
We are subject to an external assurance and we have a methodology which is harmonised with all the multilateral development banks on what can be called green. We report on the allocation of proceeds, transparently listing amounts disbursed to individual investments.
Transparency is key.
— — —
What kind of activities are 'beyond the pale' in terms of sustainability? What about fossil fuel energy producers or other carbon emitters investing to reduce their carbon footprint? How should one draw the line?
Firstly, I would like to highlight that we have a new Energy Lending Policy and we are stopping all financing for unabated fossil fuel projects. This means in the energy sector, lending for energy efficiency projects, renewable energy projects and for power distribution and interconnection.
A second aspect is the assessment of our projects. Our sustainability due diligence demonstrates how we ensure sustainability in carrying out our financing.
We support projects in sectors that make a significant contribution to growth, employment, regional cohesion and environmental sustainability in Europe and beyond.
The EIB can only support projects that (a) are eligible, (b) fulfil financial criteria, and (c) meet our separate sustainability due diligence.
— — —
Does the sustainable and responsible investment sector suffer from a lack of universally-recognised criteria and standards? Will the EU's sustainable finance package fill the gap?
Agreeing on a common language about sustainable finance is key. The EU is taking the lead on defining the term, as well as the subsequent actions.
The EIB Group contributed to the EU Action Plan on Sustainable Finance, it helped develop an EU taxonomy for climate action and other environmentally sustainable economic activities. It will provide specific technical screening criteria and determine which economic activities can qualify for each environmental objective.
Our contribution to the EU Taxonomy also includes the establishment of an EU Green Bond Standard. This technical work can bring about a significant increase of climate finance.
— — —
Do you believe that refinancing of existing projects or programmes through instruments designated as green or sustainable meets the spirit as well as the letter of ESG investment?
The EIB finances only new projects and does not refinance. We provide funding and expertise for sound, sustainable investment projects in support of EU policy objectives.
We focus on four priority goals: innovation, environment, infrastructure and SMEs with two cross-cutting goals: climate action and cohesion. We support projects that make a significant contribution to growth, employment, regional cohesion and environmental sustainability.
The EIB cannot do it alone, we need private investments. The EIB's fundamental role is to attract private investors to the projects it finances. This is why current work to make the financial system greener is so important and we are contributing to current initiatives to make this happen.
— — —
How does the EIB strike a balance between the goal to promote sustainability worldwide and the pressing financial and investment needs of loan recipient countries, for example in the exploitation of natural resources or employment/working conditions?
The EIB was created to support economic and social cohesion in Europe. We dedicate at least 30% of our financing in the EU to increase cohesion and this will also support the transition to a sustainable economy.
In the current situation, the EIB is finding solutions for COVID-19, but we should not reduce our commitment toward climate and environmental issues. It is important that one sustainability goal is not pursued at the expense of other goals.
Public financing institutions like the EIB must play a leading role in that regard, facilitating the flow of private capital into sustainable investments at the needed scale globally by supporting the creation of the necessary enabling environment and partnering with the private sector.
— — —
---
Interested in sustainability, finance, and the funds sector? We think you'll like:
---