The primacy of shareholder value as an overriding corporate priority – propounded by Milton Friedman in 1970 – has led to increased inequality, the erosion of community and environmental degradation, governance expert Jaap Winter told participants at ILA's – virtual – Directors' Day event last month. But the wind has changed: the Covid-19 pandemic has contributed to a shift in mindset as companies adopt goals such as environmental and climate protection, as well as embracing social responsibility into their activities and supply chains. ILA members heard how these trends are dovetailing with the digital revolution, the rise of sustainable finance and flexibility in the workplace – and the home office – in a moment of unprecedented change for companies and their boards. Here's a report we put together as media partners for ILA's event.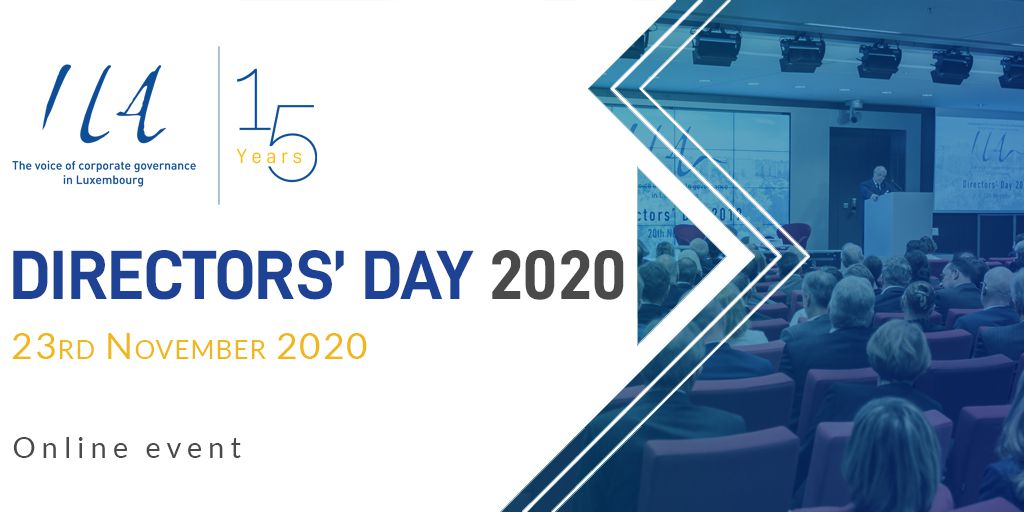 Governance and society: From the decline of shareholder primacy to living with Covid-19
The past year has changed much in the business world, from working patterns and relationships with technology to the steady emergence of sustainability as an existential issue for companies.
The ILA Directors' Day on November 23 encompassed many of these trends, itself transformed into an online event, as with so many others in 2020. But in many respects, participants heard, Covid-19 has lent impetus, urgency and visibility to current trends rather than overthrowing the existing order.
Take social responsibility, long overlooked as a significant corporate imperative. In 2020, it emerged as a major boardroom concern as the 'S' in ESG, an acronym spreading faster than ever from ethical investment niches to the economic mainstream.
Not coincidentally, its new prominence coincides with an apparently terminal crisis for the dominant paradigm of Western capitalism for the past half-century – maximising shareholder value – according to academic and corporate governance expert Jaap Winter.
"Shareholder value, as propounded by Milton Friedman in 1970, became no longer an outcome of business processes but corporations' sole objective," he said. "It led to remuneration based on targets for revenue and profitability, focused on the short term to enable managers to qualify for bonuses and exercise stock options. Everything on corporate balance sheets becomes transactional assets with a price; costs paid by staff, communities, the environment and climate are externalities that are not the company's responsibility."
Long-term focus
This, Winter argues, has led inexorably to increased inequality, the erosion of community and environmental degradation.
But even before the pandemic, a change of heart was underway, exemplified by the adoption in August 2019 of a new standard of corporate responsibility by the US Business Roundtable to supersede shareholder primacy, embracing the principles of delivering value to customers, investing in employees, dealing fairly with suppliers, supporting local communities and the environment, and focusing on the long term in generating value for shareholders.
Already, many companies, especially in Europe, have incorporated the United Nations' Sustainable Development Goals into their strategies, Winter says, but the process of realigning corporate aims with the wider needs of society has taken a step forward with Covid-19. Suddenly the state is no longer a brake on business success and profit but the source of funding that has kept companies alive.
At the same time, companies have embraced goals that benefit society rather than simply boost the bottom line, turning their factories to manufacturing respirators or protective equipment and laboratories to vaccine development.
Winter argues that the challenges of 2020 have reawakened the best and most useful corporate attributes, which had been curbed by the short-term focus on shareholder value: the kind of risk-taking, creativity and energy (rewarded by profit) that governments struggle to deliver on their own: "Business was needed to resolve the crisis – to solve problems rather than create them."
Higher standards
He acknowledges that the idea of serving a broader array of stakeholders has its critics, who complain it confuses companies about their goals and risks cutting them off from shareholders, their source of funding. And he acknowledges that well-meaning measures such as elements of the Dutch corporate governance code have been used to ward off unwelcome bidders rather than pursue long-term value creation.
Winter applauds initiatives such as public benefit corporations, corporate purpose provisions in France's Loi PACTE, and B Corporation certification for businesses that meet the highest standards of socialand environmental performance, public transparency and legal accountability to balance profit and purpose.
"I believe there should be general base standards of social responsibility for all, plus legal forms for those that want to go further," he said.
The Netherlands is proposing that the duties of corporate officers should be extended to ensuring that companies act as responsible corporate citizens. Yet that and similar approaches raise questions about how this interacts with the power of shareholders' meetings to pass resolutions, individual liability, and the design of remuneration to provide incentives to meet these goals.
"There is a need to reintegrate business and society, which have been separated by the fully-fledged shareholder primacy obligation," Winter said. But he cautioned: "The financial industry still has a problem with indifference on the part of some institutional investors that remain focused on returns and liquidity, which diminishes their ESG impact."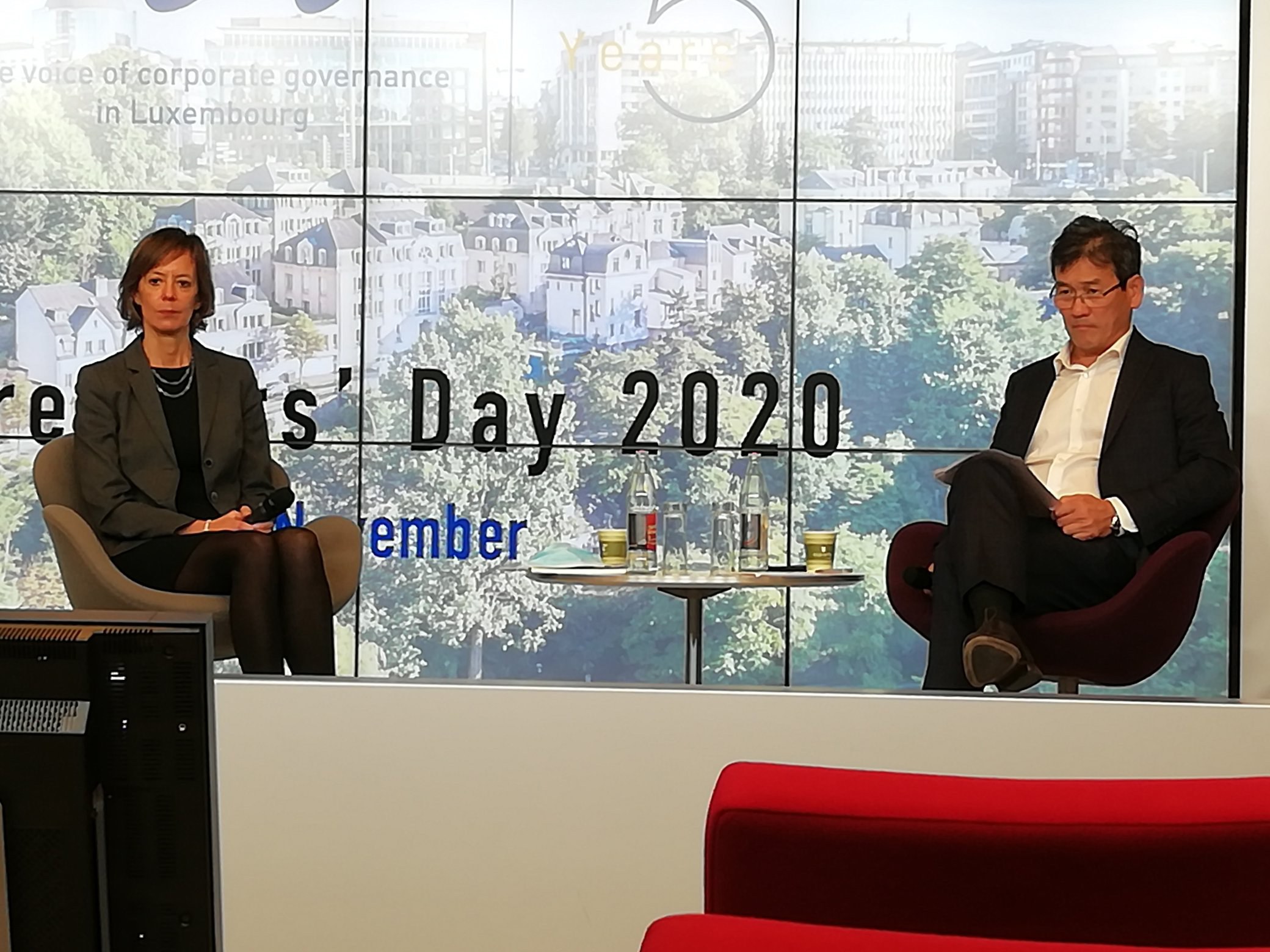 Technology and governance
Another disruptive trend in corporate organisation and strategy that has been accelerated by the pandemic: the integration of digital innovation into almost every aspect of companies' activities.
Martha Crawford, dean of the Jack Welch College of Business & Technology at Sacred Heart University in Fairfield, Connecticut, says that in the industrial field, digitalisation is a logical part of process improvement, leading to less waste and more profit.
However, it goes much further, she argues: making existing products smarter and more compelling, using data itself as a product or service, and developing completely new products and services, for example through mass customisation.
"When things undergo digital transformation, they take on the properties predicted by Moore's Law [originally formulated to describe the inverse relationship over time of computing power and its cost]," she said. "This has consequences, including the emergence of alternative business models, the redefinition of customer relationships and experience and the convergence of business verticals."
These trends raise new challenges regarding corporate responsibility, Crawford says, and how companies deal with risk. She notes from personal experience that executives and directors are prone to overestimate short-term business risks while underplaying technology risks, such as data leaks and ransomware attacks – until their company becomes a victim.
"Before we were attacked, it was hard to get the attention of the audit committee, which was mainly focused on financial issues," she said. "But afterwards, we implemented a three-year cyber-security plan in three months."
Should it be mandatory for companies to have digital expertise on the board? It's a good idea, Crawford advises.
But she says that in time, all business leaders will need to have much more digital knowledge than their counterparts did in the 20th century – "and when millennials reach the C-suite, that knowledge will be very much greater."
Sustainable finance opportunity
Boards also must grapple with sustainability issues that in Europe, at least, are increasingly being enforced by legislative requirements – for instance, investment funds have until March 10 next year to comply with the EU's Sustainable Finance Disclosure Regulation.
However, since the European Commission has fallen behind on setting out in detail how financial institutions should report on the sustainability risks of investment products, they can only follow the legislation's high-level principles, with the requirement that disclosures should be clear, concise and not misleading.
Green or sustainable fund labels such as those awarded by Luxembourg's LuxFLAG can help, argues fund director Jane Wilkinson. "The key questions for directors are what the asset manager's overall strategy is, how it should embrace sustainability issues and how this should be rolled out to individual funds."
But PwC Luxembourg partner Nathalie Dogniez noted: "We can capitalise on Europe's advance over the rest of the world. It is an opportunity for asset managers with sustainability credentials in other markets."
Covid-19's long-term impact
The Covid-19 pandemic has demonstrated that companies and their boards can be adaptable, adopting different processes and models, such as working offsite.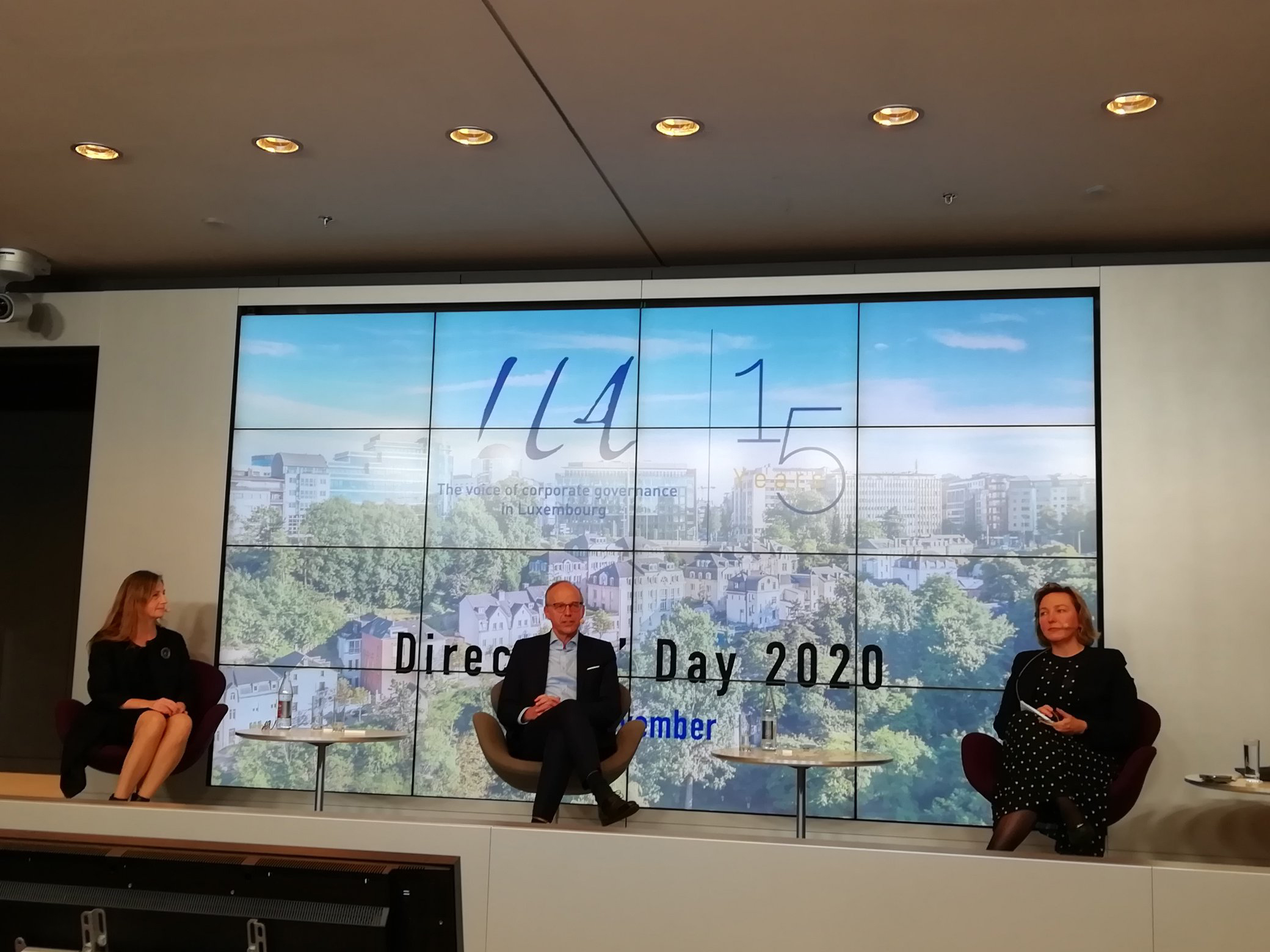 But Chamber of Commerce chairman and former finance minister Luc Frieden says companies are still in the process of learning the lessons. "Reprioritisation is important in every crisis," he said. "Bringing people together, even if they can't meet physically, has become vital."
However, he says making a success of remote board meetings is more complex than it might at first appear: "From a technological point of view, the equipment and infrastructure worked so the content of meeting was good. A screen community works if you already know people, but we miss the informal gatherings before and after meetings."
Frieden says he would retain some of the new habits and practices, such as taking decisions by circular and e-mail, in the post-pandemic world.
But many of the consequences will be here for a long time, he warns. "Luxembourg's steel crisis took 10 years to resolve; the global financial crisis needed five years. Even if the disease is under control soon, it will take four or five years before things are back to normal; repeated lockdowns and supply chain disruption will have an ongoing economic and psychological impact.
"In the medium and long term, companies may need to find new markets and use different tools. For now, many people are stressed and focused on the immediate future, but boards need to focus on planning for changes over the next five years."
---