It takes a lot of work to write effective and engaging content marketing articles and blogs.
As content specialists, we know that for a fact.
That said, as brands across every industry look for cheap inbound marketing opportunities, many are now pursuing content marketing strategies.
That makes sense. When produced in-house, among other benefits content marketing articles:
serve as a relatively low-cost form of marketing that can be leveraged to target specific audiences and prospects
boost leads and conversions
improve site traffic
raise brand awareness and credibility
support the sales cycle.
These benefits explain why market research company Technavio forecasts that the content marketing industry will be worth nearly a half trillion dollars by 2021, more than doubling in value in the five years from 2016.
If you're considering devoting time and resources to a content strategy, however, heed our warning: don't bother unless you intend to create high-quality material.
If you're here to discover what that actually means, be patient. We'll get there.
First, we need to explain why this is so important.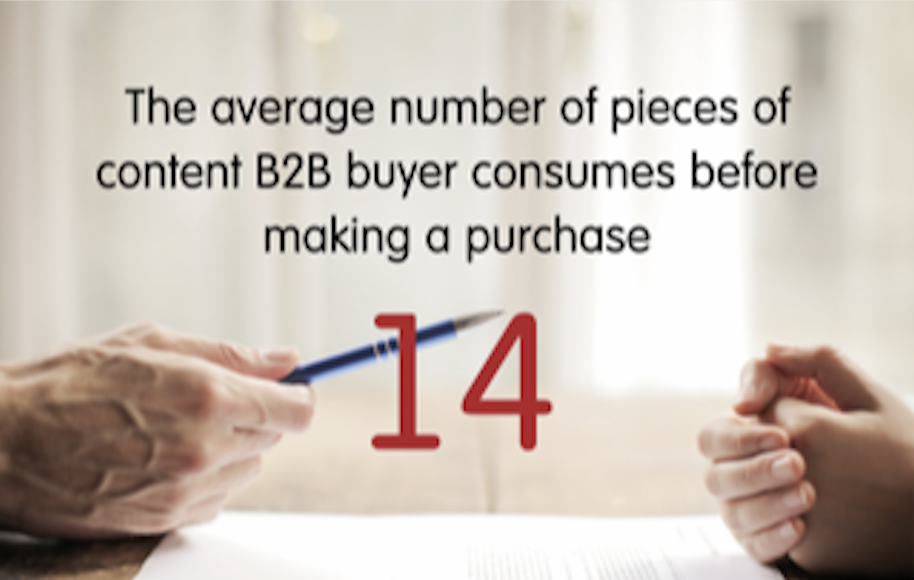 Avoid creating content for content's sake
The old days of "put out anything" are gone. Publishing low-calibre articles or blogs today is counterproductive, and even can alienate a company from its targets and prospects.
Does it really makes such a drastic difference for your material to be well-written, researched and optimised for SEO? Take it from us:
Yes. It. Does.
There are two major reasons that lead to the same end: the value of your content.
Don't be a salesman
The idea of brand relevance that offers value to the public aside from selling products or services has become crucial.
No one engaged in business research wants to feel like a sales mark (unless, of course, they've arrived at the purchase stage in their buyer's journey.)
Rather, what people are looking for is useful information that helps guide decisions.
That was a major finding we uncovered during our research at the dawn of VitalBriefing, before we even launched the company. Our extensive market research found that people are sick and tired of companies trying to sell them products and services.
Indeed, 71% of buyers agreed that they're turned off by content that seems like a sales pitch, according to research from the Economist Group.
Plus, in the wake of major events such as the Cambridge Analytica scandal, coupled with the explosive growth of 'fake news', consumers are looking for — and demanding — credible, authentic, reliable and high-quality content.
Meanwhile, the sales cycle is growing increasingly longer. On average, B2B buyers now consume between 10 and 14 pieces of content before committing to a purchase. But nobody wants to deal with a salesman.
Since the focus should no longer be on 'selling', we all must provide value, guiding prospects through the sales funnel/buyer's journey with content.
But if it's not high-value material, don't bother.
Playing by Google's rules
The flip side of this value relates to SEO, or Search Engine Optimisation.
In response to content consumption trends, Google, in the way it ranks results on Search Engine Results Pages (SERPs), has increased its emphasis on content quality and authority.
In 2018, Google made a number of significant changes to its algorithm. One of those is known as the Medic Update, and it changed the way Google measures the quality of a webpage.
To offer users the best possible experience, Google's algorithm evaluates web pages first and foremost for the value it believes they will provide audiences.
Google scores an article or blog on key metrics in relation to value provided to the audience, such as bounce rates, average time spent on the web page and whether a reader clicked out of a domain after reading the material or if they further explored a site (think: your site).
This means that if you intend to write effective content marketing articles and/or blogs, you had better ensure you're doing the best job you can.
In addition to supporting your sales funnel, good (and great) content also will improve the SEO of your entire website, ensuring your homepage and content rank higher for the most relevant searches and keyphrases.
Find the right topic
Remember, you should ensure that the topic of your article or blog:
reflects your company's expertise and brand values
is relevant to your target and sector
provides value to the reader
To achieve that assurance, you'd better do your due diligence — which in this case translates to doing your research.
For instance, if possible find an angle or connection to major recent news and events to discuss in your article.
Also, what subjects are experts in your space creating content to address? Look for the industry-specific buzzwords and hot topics that you could take on.
You could also do some keyword/search phrase research and create content that targets a specific search query.
And, of course, remember we're talking about content marketing articles rather than simple marketing or sales material. These pieces should clearly reflect your organisation's mission and values in order to resonate with your audience.
Get them to believe in your story and they'll believe in your brand.
If you think you've found a good topic, ask yourself this: are you offering expert insight or opinion, or even actionable advice? If not, then what makes your article noteworthy to the reader?
Other factors to keep in mind:
Think of the consumer experience. Will your blog appeal to your target's problems and aspirations? Don't focus on you or your company (except for bottom-of-the-funnel content). Instead, your content topic should appeal to your prospect's problems and aspirations.
Buyers — especially when doing their initial research — don't look for solutions. They make searches in relation to, and consume content that helps with, their problem or opportunity.
Consumers particularly like talking about experts who inspire, challenge, educate and get them emotionally charged. By homing in on the right emotional triggers, the best stories will show how you can solve their problems, satisfy their desires, identify opportunities and even threats to their future (B2C) or their business (B2B).
Formatting your article
Users spend an average of 15 seconds on a webpage. You must do everything possible to ensure your content is appealing from the lede (first sentence) and entices your audience to read to the kicker (last sentence).
Although optimising the formatting of your piece won't guarantee success, it certainly will help. The more attractive the formatting, the more likely your audience will keep reading — and to take that crucial next step after consuming your content, from engaging with you on social media, visiting your homepage or downloading something off your site.
Here are some tips that will help. (Take special note of the last one on the list):
Write shorter paragraphs (1-3 sentences)
Define a consistent writing style (Voice? Tone?)
Use bullet points to break up text
Use proper subheadings (H2, H3, H4, etc.)
Define a consistent typography and colour pallet
If possible, use boldfaced, italicized and underlined text
Include key takeaways at the end
Embed image(s) or video(s)
Don't forget to showcase your value proposition
Remember this: you are trying to achieve a goal with your content marketing articles or blogs. You are striving to convince your audience of something — to get them to do something.
You need them to take that next step at whatever stage of the funnel they're at. To get there, make your value proposition clear in the right way.
Easy to say (or write), harder to pull off. Somehow, without talking about your company and its services, you must make it clear that your company and services are first-in-class.
How can you do that?
Prove it through your competence and knowledge — after all, these are the qualities that distinguish you from your competitors. The subjects you cover should make it easy for your expertise to shine through.
The importance of a call-to-action (CTA)
Throughout this process, remind yourself of your end goal — which isn't simply to see your company's name in print, online, or in any particular medium. You want your prospects to read that piece of content and continue their way through your funnel.
Remember to match whatever you're writing about with the appropriate CTA to accompany the article.
For instance, if your desired outcome is audience download of a white paper or ebook so that you can capture qualified leads (e-mail addresses), you'll probably want to cover a more technical topic that leaves them hungry for more in-depth information.
On the other hand, if your ambition is to boost social media engagement, you'll probably target a broader, more attention-grabbing topic with broader audience appeal.
Ultimately, it may seem there's a lot to consider. Don't be dissuaded or discouraged. Practice makes better, if not perfect, and the more you write, the easier most of this will become.
Eventually, you won't even need to think about many of these elements — they'll just come naturally.
---
Do you need more content marketing tips and advice to help you creatine effective and engaging material? You might be interested in: