In just a few short decades, the internet has exploded into an expanding universe of content – and content marketing.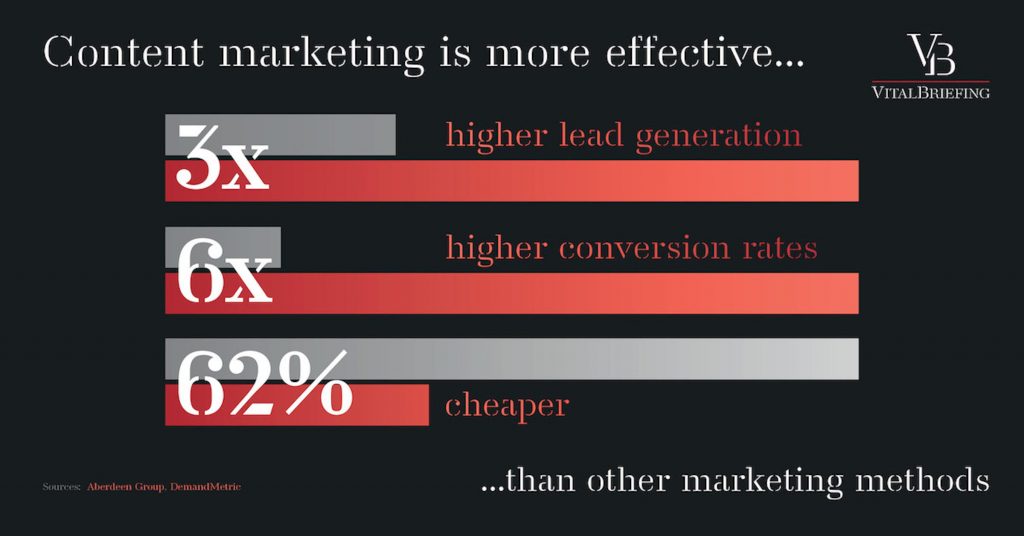 Run a web search and prepare to spiral into a black hole of possibly interesting but often false and distracting material that risks sending you spinning across a galaxy of irrelevance.
Information consumers — all of us — in this dense and fast-moving medium are challenged to know which sources to believe, especially when the term "fake news" is tossed around like confetti by our most powerful leaders.
"What's gone from the internet isn't 'truth', but trust: the sense that the people and things we encounter are what they represent themselves to be," writes Max Read in New York Magazine.
It may sound counterintuitive – using more content to battle the content overload we are now experiencing – but high-value content marketing is critical for any business looking to separate itself from its competitors and effectively engage their target consumers.
In fact, a robust content strategy has fast become a key element of many business sales processes.
Standing out from the crowd
Amid this tide of dishonesty, it's imperative for your business to open up an authentic channel of communication rich with real and valuable content.
But if it's never been more important for businesses to generate quality content to stay competitive, how do you deliver high-quality, targeted information to current and future clients without getting lost yourself in the endless forests of information?
And more importantly, why do so many of us find it so hard to produce effective content marketing that supports business growth?
According to Doug Kessler, creative director at Velocity Partners, the answer to succeed with inbound marketing is to build a great content brand:
Aim high and strike your target.
Become known for producing top-notch content.
Deliver on your promises.
Hit these three goals and you'll attract quality producers who can power your upward spiral.
By providing reliable, engaging branded content and thought leadership that your customers opt in to read and share, you build trust – far more effectively than by throwing advertising at them – and can set your business apart from the competition, improve your brand recognition and reputation while highlighting your expertise in your industry.
According to DemandGen, 95% of B2B buyers consider content to be a trustworthy means of evaluating a company and its offerings, while Hubspot finds that prospective customers consume at least five pieces of content before buying – both points offering clear indications of content's importance.
Anna Rosenman, an executive at customer relationship management software leader Salesforce – which just launched a content management system within its platform to enable businesses to harness customer data – says that without content, your commerce site is a mere webpage facilitating transactions.
Your own content also can serve as a forum to develop your brand's voice, a place where you can present a more personal face of your business.
Marketing expert Michael Brenner notes that forcing the brand name on the customer's attention can be counter-productive, so try to mention it as little as possible. This restraint could also help you to decide whether to host your content on your main branded website, or on a separate domain.
With trust and a relationship established, your content can educate your audience with the information they need to take the next steps in the conversion process, whether making an actual purchase, getting in touch for more information or engaging with you online.
The key is to provide highly readable content that enriches the reader with new insights and ideas. The Content Marketing Institute says that after reading recommendations on a blog, 61% of American online consumers made a purchase.
Content marketing/business growth case studies
Brenner offers examples.
A personal favorite: A few years ago, consulting company Capgemini suffered from poor brand awareness and was falling behind the competition. Vetoing a proposal to buy display advertising in golfing magazines — and even to sponsor a professional golfer — its brand manager opted in 2013 for a content marketing strategy based around Content Loop, a storytelling website integrated with LinkedIn featuring topics such as big data and the cloud, stories aimed at putting the company "at the heart of business and IT conversations".
After one year, the brand site had drawn nearly one million new visitors, the firm had gained more than 100,000 new followers to its LinkedIn page and enjoyed 1.8 million shares of its content.
Crucially, the strategy generated nearly $1 million in sales the first year and has been growing since.
Other examples range from luggage company Away, which created Away Here, a high-end, magazine-style blog focusing on travel and lifestyle topics to enterprise chat provider Slack's blog, "Several People Are Typing", with tips on productivity and collaboration and Home Depot's Garden Club portal, which is packed with how-to guides.
How to quantify your content marketing efforts
Quantifying the efforts you put into content marketing is difficult. Don't fall into the mistake of identifying financial gain as the immediate goal. Rather, you're in a marathon, not a sprint.
Nevertheless, return on investment can be maximized by creating a strategy that focuses on select topics for your target market rather than simply churning out content for its own sake.
Media and competitor monitoring for current trends are key. Same for harnessing data on the customer experience on your site that's useful for future content planning, such as journey maps, user feedback and customer profiles.
Improved search engine optimization for your business provides consistent and relevant content, including a variety of topics and keywords. Indeed, Tech Client provides this heartening statistic: Websites that post consistent blog content boast on average 434% more pages indexed by search engines than those that don't publish at all.
Believe this: Content costs about 62% less than traditional marketing techniques — and generates three times as many leads, according to DemandMetric. Obviously, that's a highly efficient and effective way to maximise your budget.
While it's cheaper than straight-up advertising, dedicating budgets to this effort is important. Data from the Content Marketing Institute/MarketingProfs shows that B2B marketers allocate 29% of their total marketing budget, on average, to content marketing (26% for B2C). The most effective allocate 42%, and the most sophisticated and mature allocate 46%.
Key takeaways
• Know your audience. Put yourself in your buyers' shoes, be aware of their challenges, needs, interests, desires and concerns – and tailor your content accordingly.
• Choose the right tools and software to produce and show off your content.
• Unless you have an in-house team, outsource to content-creation professionals.
• Decide on, then develop your brand's voice: serious, funny or whatever. Just have a voice.
• Post consistently and regularly across content types and platforms.
---